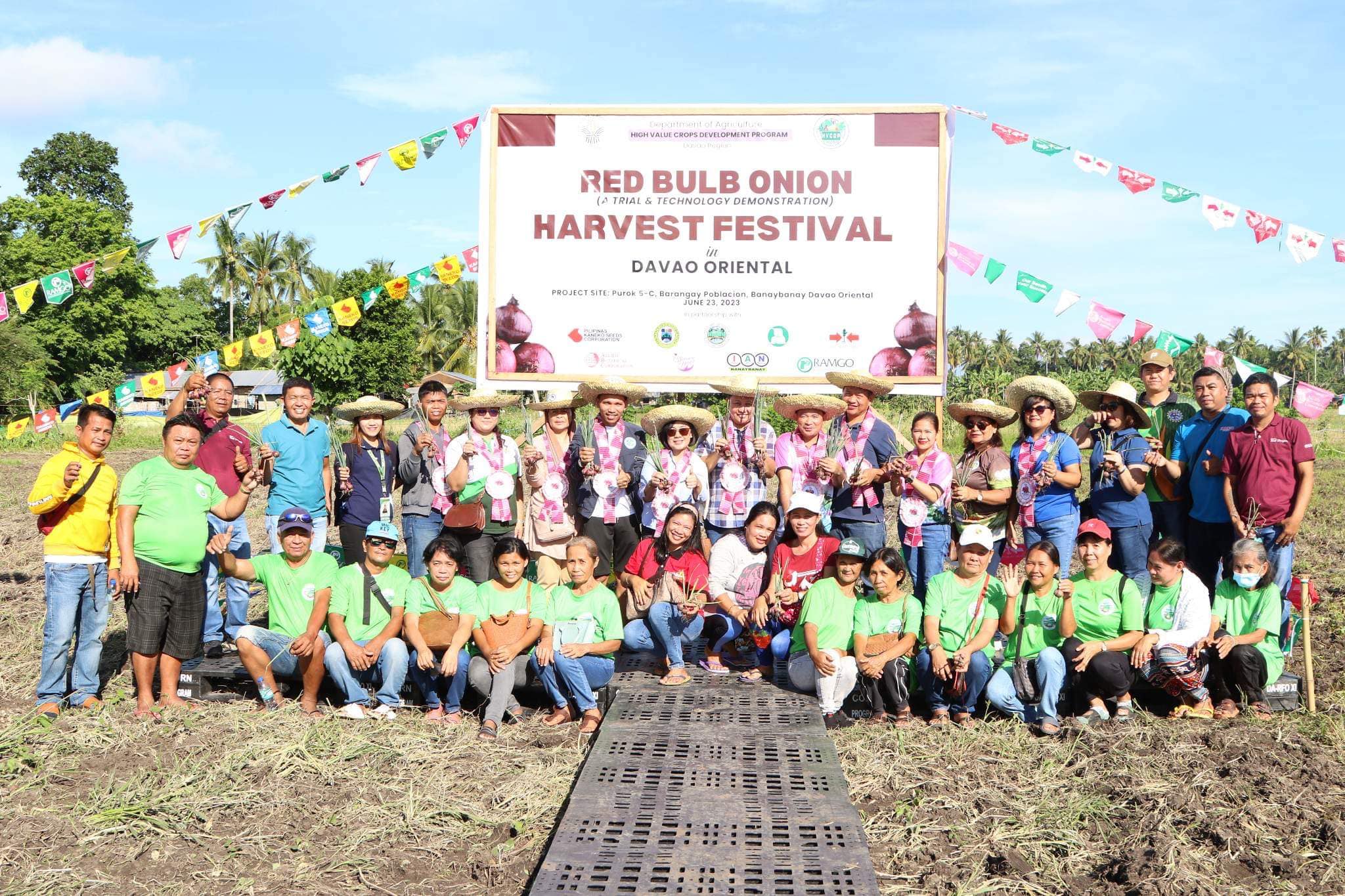 Author: Agri Info Davao
SIBUYAS HARVEST FESTIVAL | To celebrate the good harvest of onions this year, the Department of Agriculture Regional Field Office XI (DA-RFO XI) thru the High Value Commercial Crops Development Program (HVCDP) conducted the first onion harvest festival at the municipality of Banaybanay, Davao Oriental.
The successful harvest onion festival was initiated by DA-RFO XI in partnership with the Municipality of Banaybanay, National Irrigation Administration (NIA), Bureau of Plant Industry (BPI), and private seed companies.
The harvest festival was held at an approximately half-hectare farmland owned by Olando Mante in Barangay Poblacion, Banaybanay where four onion varieties (red dragon, red pinoy, red onion and the super pinoy) were introduced.
The varietal trial activity is related to the production of onion in the province where the result will determine the appropriate variety that will be the basis of the interventions that DA can provide as support to the farmers.
In his message, delivered by the Field Operations Division (FOD) Chief Marie Ann Constantino, DA-XI Regional Executive Director Abel James I. Monteagudo recognized the efforts of the famers, the Local Government Unit (LGU) of Banaybanay, the Provincial Agriculturist Office (PAGRO) of Davao Oriental, Municipal Agriculturist Office (MAO) and private seed companies for joining and supporting the technology demonstration adaptability.
Constantino added that to further support the onion farmers DA RFO XI will implement programs such as the provision of seeds and conduct of techno demos thru varietal trials in various areas in Banaybanay.
DA-HVCDP XI Coordinator Rubylyn Baya explained that the reason for conducting a techno-demo trial was due to the skyrocketed price of onion.
The HVCDP team is actively promoting and scouting more areas in Davao Region to expand and produce onions.
Municipal Mayor Lemuel Ian Larcia of Banaybanay expressed his gratitude for the continued support of DA RFO XI and through this intervention, the onion growers will become empowered as its production is seen as a potential way for economic progression for the farmers.
"Sa akong administrasyon gusto nako iplastar ang mga farmers. Gawas sa humay naa pay laing intervention ang DA, kining sibuyas. Tungod niini nagpahimo ko og feasibility studies kay gusto nako sustainable ang program. Matingala ko kay ang mga anak sa mag uuma adunay doctor adunay attorney diha gyud ang klaro nga naay kwarta sa yuta. Rest assured ang tabang sa gobyerno naa gyud na siya, kinahanglan nga suporatahan nato ang tanang programa sa gobyerno," Larcia said.
Rowelyn Tabucnal, farmer from Banaybanay shared that planting onion is not that easy. "Sa pagtanum og sibuyas Bombay need pa gyud nato og more technology ug gi recommend nako sa akong kapwa mag uuma nga gamay lang sa nga area ang tamnan aron makuha ang timplada sa pagtanum og Bombay."
Also present during the activity were DA XI DACARS Chief Enya Amahit, OIC MAO of Banaybanay Lolita Largo, PAGRO-Davao Oriental representative Sol Reintar, representatives from the LGUs, MAO, BPI, Integrated Multi-Venture of Bgy. Cacao Consumers Cooperative, Katipunan Small Coconut Farmers MPC, and Mariphil Farmers MPC (FCAs KADIWA of Panabo City). | via Elizabeth Torio and Hannah Estrada, RAFIS11
Photos by Kim Royo
Red Abel James MonteagudoOffice of the RTD for Research and Regulations – DA RFO XI Marila Lucernas Marie Ann Constantino Cj Dobs Enya Celoso AmahitHvcdp Davao RegionAgric Res Davao
Credit: Agri Info Davao Facebook Page