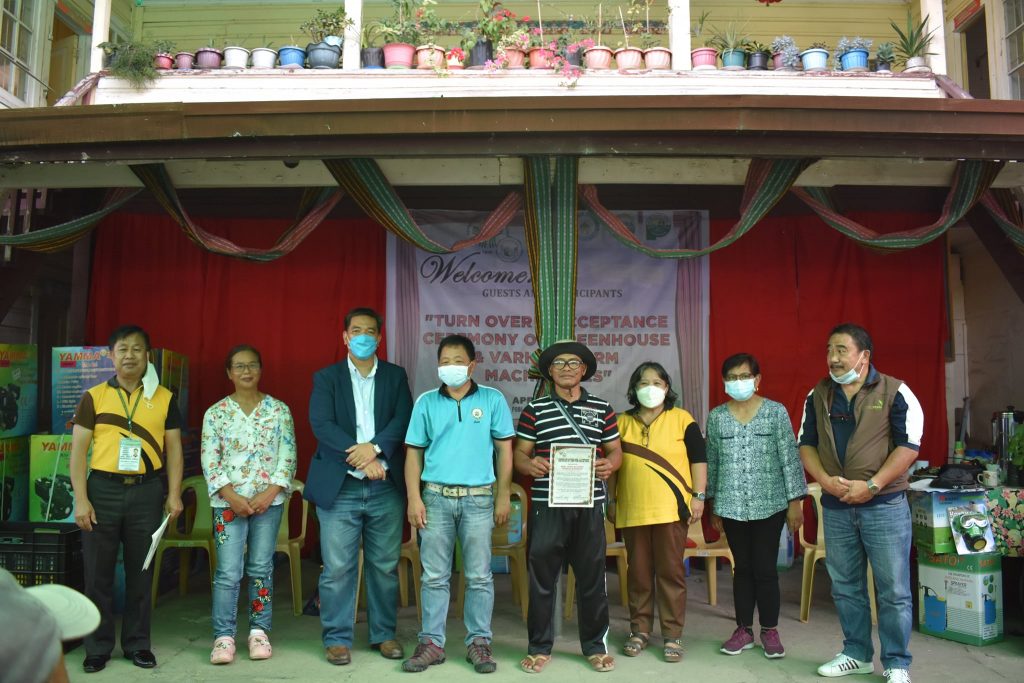 The Department of Agriculture-Cordillera Administrative Region (DA-CAR) continues to promote the production, processing, marketing, and distribution of high-value crops with the provision of various interventions aimed at increasing production, income, and livelihood opportunities among the farmers.

Through the DA-CAR High-Value Crop Development Program (HVCDP) and Regional Agricultural Engineering Division (RAED), several Farmers Cooperative and Associations (FCAs) from Mt. Province and Ifugao were awarded farm infrastructure and various farm machinery amounting to P5,559,988.65 on April 28-29, 2022.
Mt. Province had received 3 units of grass cutters, 5 units of greenhouses, 8 units of multi-cultivator, 10 units of knapsack sprayers, and 15 units of water pump and engine sets totaling P3,565,238.65. The intervention benefitted 40 FCAs from the municipalities of Bauko, Besao, Bontoc, Natonin, Paracelis, Sabangan, Sadanga, Sagada, and Tadian.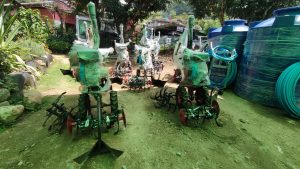 On other hand, 38 FCAs from all the municipalities of Ifugao were awarded 3 units of grass cutters, 5 units of multi-cultivator, 10 units of power sprayer, 10 units of water pump and engine set, and 10 rolls of plastic sheets amounting to P1,994, 750.00.
AMAD Chief and HVCDP Focal Person Joan D. Bacbac outlined the basic requirements of availing the services, namely, members of DA accredited groups and at least 80% of the group members must be RSBSA registered. She also emphasized that the group must have a concrete plan for the use of the machinery and must also have a service area or volume of production at least equivalent to the capacity of the requested machinery.
The provision of these farm infrastructure and machinery will not only ease and increase production and income but also the productivity of the farmers. This will also strengthen their role as main actors in food security and poverty alleviation in the long run.
"This will be very helpful as it will improve the livelihood of our farmers and life in Mt. Province in general. This will also lessen the number of people who are lining up for jobs in the municipal /provincial office," said Jerome Tudlong, representative of Bontoc Mayor Franklin C. Odsey.
HVCDP Focal Person Bacbac hopes that by end of this year, the agency can see the results of these interventions, may it be an increase in the production area or an increase in production yield. "This is for the association to use. It is not for the President only," she said. She added that the FCA's should assign an operator to maintain the equipment.
"As you (beneficiaries) accept the machinery, you also accept the responsibility to take care of this. Let's use this wisely," APCO-Mt. Province Beverly T. Pekas reminded the FCAs.
This was seconded by APCO-Ifugao Charlemagne B. Monayao. He counseled the farmer-beneficiaries to create a policy on how are they going to use the farm machinery within their association, focusing on operation and maintenance. In addition, he asked them to comply with the remaining requirements such as the RSBSA registration. He also asked them to keep a record of their production to pursue effective risk management strategies when disasters strike.
RAED Chief Filemon A. Salvador also advised the beneficiaries to coordinate with their municipal and provincial LGUs if there's an issue with the machine so, in return, the region can contact the supplier for assistance.
One of the beneficiaries is Ambasing Demang Dagdag Balugan Association of Sagada, Mt. Province. The association started in 2016 and produces rice, corn, and various upland vegetables. They have received one set of Pump Irrigation Systems for Open Source (PISOS).
"We are thankful to the DA and the LGU of Mt. Province for being there to assist farmers like us. This would improve our way of farming. We now have a water pump to irrigate our farms, especially during summer when water is a problem," said Esteban L. Solang, President of the association.
A technical demonstration on how to operate the machinery was also shown by the representatives from the supplier, Northern Asia.
Also, in attendance during the turnover in Mt. Province were June Pinayakan, representative of Governor Bonifacio C. Lacwasan Jr, Provincial Agriculturist (PA) Dominga A. Cabatu, and Supervising Agriculturist Rollando Bragado while the turnover ceremony in Ifugao were attended by Governor Jerry U. Dalipog, PA Domingo Mariano and Provincial HVCDP Coordinator Benjamine C. Lunag Jr. //
Source: Department of Agriculture-Cordillera Facebook page