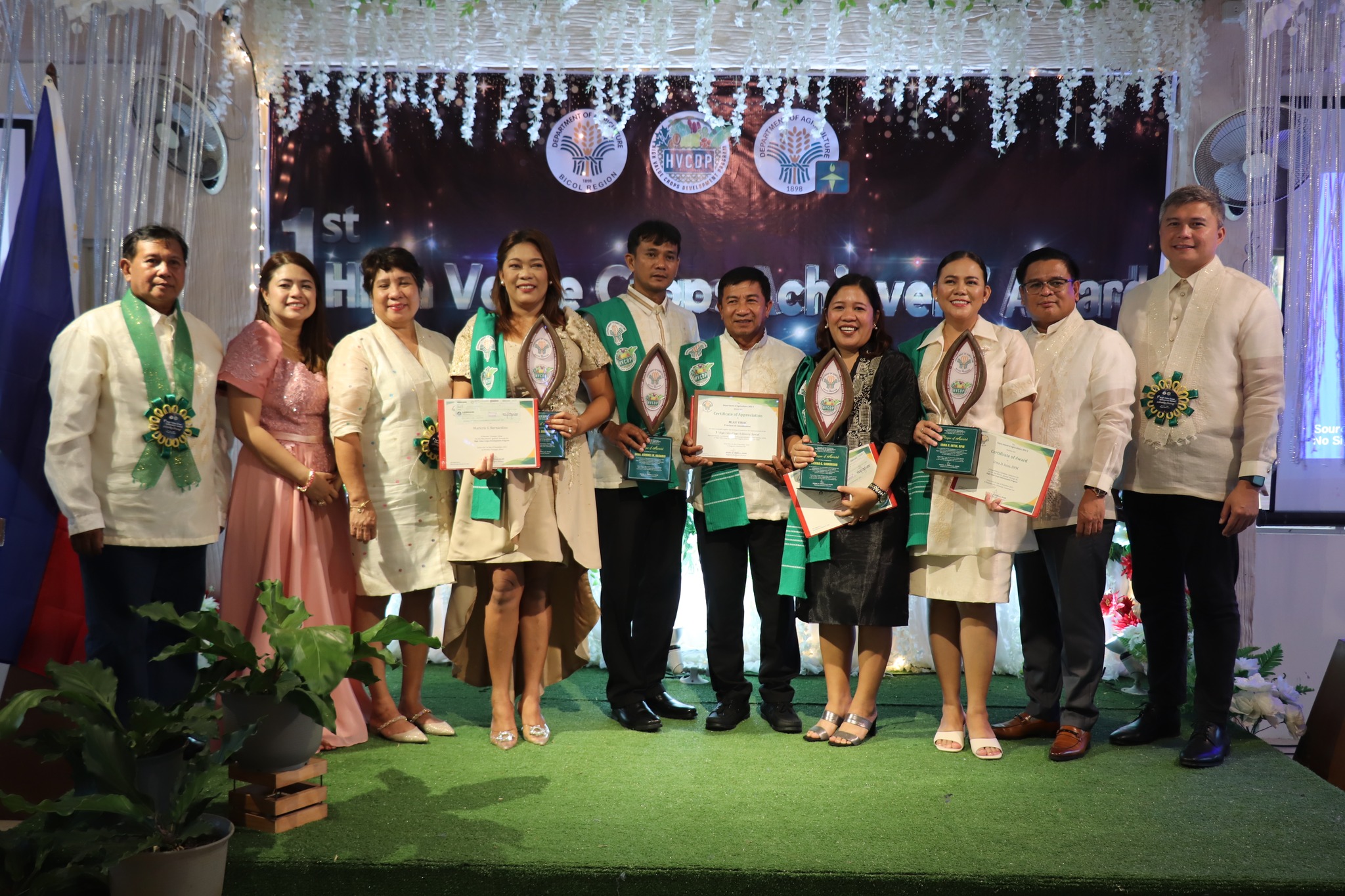 Five outstanding Agricultural Extension Workers of Bicol received P20,000 cash prizes as pioneer recipients of the first ever High Value Crops Achievers Awards. The award was given by the DA 5 -High Value Crops Development Program recently.
The awarding was personally graced by Director Gerald Glenn F. Panganiban, OIC Director of the Bureau of Plant Industry and Concurrent Program Director of National Urban and Peri-urban Agriculture and High Value Crops Development Program. "Nag trailblaze ang Region 5…..I commit my support to push for this incentive/award hindi lamang sa Region 5 kundi maging sa ibang regions," he said. Panganiban also added that food security is not only the responsibility of Region 5 or NCR but of the whole nation.
The five Outstanding AEWs who received a P20,000 cash prize, plaque and mist blower were: Mario D. Asuncion, HVCDP AEW of LGU-Virac, Catanduanes; Maricris S. Bernardino, HVCDP Coordinator of Polangui, Albay; Sienna C. Sombrero, HVCDP Coordinator of Tigaon, Camarines Sur; Engr. Rommel M. Nacario, HVCDP Coordinator of Pili, Camarines Sur; and Irma D. Intia, HVCDP Coordinator of Libmanan, Camarines Sur.
Dr. Irma D. Intia of LGU Libmanan has organized five HVC farmers organizations which have all joined the CLLS Federation of HVC Growers, Inc. She helped link the farmers to both government and non-government organizations. Paving the way also for the establishment of the CLLS Agri-Village and Trading Post that serves as the consolidating and marketing area of the CLLS members of the four (4) municipalities of Cabusao, Libmanan, Lupi and Sipocot,
Engr. Rommel Manzano Nacario of Pili has established the baseline data of his handled barangays including the profile of every farmer to facilitate better planning, monitoring and validation. He continued and initiated various LGU-funded projects including 1) Nursery Development Project, 2) AgriDoc Phase 3, 3) Introduction of Drip Irrigation System, and the 4) Vegetable Enhancement Project. He is a member of the council of Regional Extension Service Provider of the ATI. In 2021 he organized the federation of the high value crops grower of Pili composed of 10 associations that qualified to the DA's Farm and Fisheries Clustering and Consolidation (F2C2) program.
Sienna C. Sombrero is the HVC Coordinator of the LGU of Tigaon since 2008. She conducted Farmers Field School for vegetable production for the 4Ps, IPs, GPP Coordinator to share her knowledge with the farmers. She always monitors their farms and extends technical assistance like pest and disease prevention and control, relays new technologies to the farmers, encourages farmers to register in the RSBSA and help them ensure their crops in PCIC.
Mario D. Asuncion is the HVC Agriculture Extension Worker in the Municipal Agriculture Office of Virac, Catanduanes from December 2013 to the present. He is responsible for planning and supervising of all HVCDP activities such as Gulayan sa Paaralan and Gulayan sa Barangay Programs, Farmer Support Program and the Climate Change & Mitigation Reforestation Program.
Maricris Bernardino is the municipal HVCDP coordinator of Polangui, Albay covering 44 barangays. She organized the different farmers' associations into Polangui Federation of Growers Assn. Inc.
DA Bicol Regional Executive Director Rodel P. Tornilla said that this HVC Achievers Awards is the first in the country and the funds came from GAA allotment for the HVCDP of Region 5. "This is our way of saying thank you to our Local Government Unit partners in the implementation of the High Value Crops Development programs in their respective municipalities. This is also in recognition of the AEWs' dedication and exemplary performance in the delivery of agricultural services to our common clienteles – the farmers and the public in general," Tornilla added.
Dr. Mary Grace DP. Rodriguez, Chief of the Field Operations Division and regional HVCDP coordinator said that the HVC Achievers' Award is open to all Municipal HVCDP Coordinators with at least 3 years experience. "I hope that in the coming years, mas marami pa pong Agri Extension Workers ang sumali," she enthused.
The awardees' respective LGUs were also honored during the ceremony. Also present during the awarding were ATI-RTC 5 Center Direcrtor Elsa A. Parot, Camarines Sur APCO Marcial Bustarga, Albay Provincial Agriculturist Rose Beludo, Albay Provincial HVCDP Coordinator Cesar Cordenete, Albay Asst. APCO Jayson Gonzales; Municipal Agriculturists Lea Beltran, Arvin Salvino, Rexie Jesalva of Libmanan and John Carlo Dasigan of ROS Catanduanes.
The High Value Crops Achievers Awards is being implemented by the DA High Value Crops Development Program in collaboration with the ATI (Lovella P. Guarin / RAFIS 5)
Source: Agriculture Bicol Facebook Page
https://www.facebook.com/agriculture.departmentbicol/posts/pfbid0Tug7vQvm9Qv6GyaRNjo4TygeWz9bE76f8u6kNF8xHBBL5jBKjxVYnooyMr21VKXDl